Producer's Film Picks for November 2017

The theme for this month – Rat in the Machine, Mice in the Fields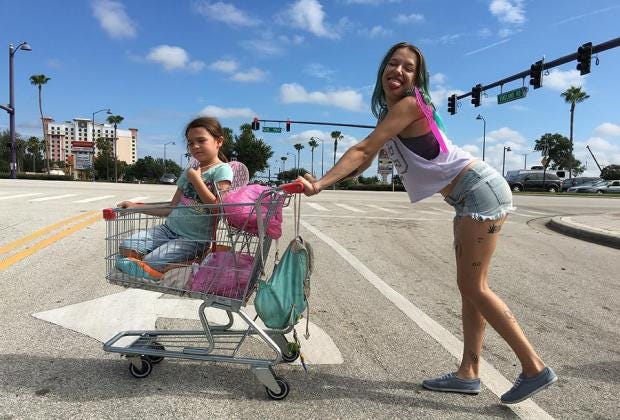 Theatrical Release
The Florida Project (2017)
Written by Sean Baker and Chris Bergoch, directed by Baker (Tangerine). Cinematography by Alexis Zabe (Silent Light, Post Tenebras Lux.) Starring Willem Dafoe, Brooklynn Prince, Valeria Cotto, Bria Vinaite, Christopher Rivera, Aiden Malik and Mela Murder .
Synopsis/reviews
"This tension is at the center of The Florida Project, the remarkable new drama from Baker. This film is a testament to the perseverance of children, and an affecting portrayal of modern poverty. Baker starts by keeping these stories separate, only to have them converge in heartbreaking ways."Disney World can be the source of a kid's most cherished memories, yet sprawl and hardship can infect the area beyond the parks. The majority of The Florida Projecttakes place in a motel nearby Disney World, where an adjacent helicopter pad helps rich tourists skip the traffic. The helicopter is a nagging reminder for those who live at the motel, who would not dare dream of such luxury." Alan Zilberman, Washington City Paper
"Most of the action, such as it is, takes place in the first few weeks of summer in and around the budget motels neighboring Walt Disney World in Orlando, Fla. Originally intended to accommodate the overflow of tourists, these motels have long since gone to seed. One of them, the ironically named Magic Castle motel, with its faded purple paint job, is home to 22-year-old single mom Halley (Vinaite), an ex-stripper with bright green hair, and her rambunctiously precocious 6-year-old daughter, Moonee, played by Prince, who gives one of the best performances I have ever seen from someone so young. Moonee's newfound best friend Jancey (Cotto) lives across the way with her doting grandmother in the Futureland Inn. Mischief is the girls' chief activity, and for a while they are joined by co-conspirators Dicky (Malik) and Scooty (Rivera)." Peter Rainer, Christian Science Monitor
"Moonee is raising herself, Jancey has little supervision, and Scooty's mom, Ashley (Mela Murder), helps Moonie and Halley by providing free waffles were she works. I guess its for Halley taking 'care' of Scooty every day. Everything about Moonee's upbringing will horrify middle-class America. She is allowed to wander wherever she wants to. She can cross highways without an adult. She's her mother's co-worker as they hawk discount perfume to tourists leaving hotels. She's got a language of a street walker and speaks her mind.Moonee does not require any supervision, doesn't have a curfew, goes out in the morning and returns whenever she wants to. She is completely independent." Victoria Alexander, Films in Review
"She lets her preschool-age daughter, Moonee (Prince), run free all day, while she herself sprawls on her bed slurping sodas and watching daytime TV, and it seems to be working: Moonee is a bright, quick-witted kid with a sense of fun and of humor. As seen in her extended romps with other kids—notably Scooty (Rivera), who lives downstairs with his mother, and Jancey (Cotto), who lives in the Futureland Inn motel, next door—Moonee is a natural leader, the one with the ideas, the persuasive power, the vocabulary, the imagination, the charisma. If you were looking to cast a child actor from among the kids living in the area's motels, Moonee, quotably precocious and perceptive beyond her years, is the one you'd pick. When a pair of Brazilian tourists find themselves stuck by accident in the downmarket motel, Moonee, watching them argue in the lobby, says, "I can always tell when adults are about to cry."Yet the hard poverty in which Moonee is being raised and the casual, albeit fiercely devoted, parenting that she endures are depicted as all too perfect, and all too easy for her. She and her friends romp through the area largely unsupervised, exploring and—under Moonee's leadership—cadging, begging, playing cute for their small pleasures." Richard Brody, New Yorker
Archival films
Modern Times (1936)
Written and directed by Charlie Chaplin (City Lights, The Great Dictator.) Cinematography by Ira H. Morgan, Roland Totheroh. Starring Charlie Chaplin, Paulette Goddard and Henry Bergman.
"Nonetheless, it's hard to believe today that an astute 30's critic like Meyer Levin could praise Chaplin for aligning the Tramp with the world's working stiffs. The feeling that emerges most clearly from Chaplin's characterization is a studied distaste for his comrades in industry. Nothing personal or anti-socialistic, mind you; the Tramp just happens to hate work, and this hatred is consistent with the logic of his classical prototypes. He may chortle at the dove-like gyrations of a young middle-class couple, but he ends up yearning for the most grotesque tokens of economic security—a cow to be milked at the front door, grapevines crawling around the cottage like Virginia creepers, and a resourceful street gamine as immaculate child bride (played by Goddard—here and in The Great Dictator—as the urban descendant of Mary Pickford's girl of the rural slums). For the sake of this regressively childlike and sexless ménage, the Tramp announces proudly that he will make the supreme sacrifice and go to work. He is clearly one of the poetically unemployed, Mr. Micawber masquerading as Mother Courage." Andrew Sarris, New York Observer
Ratcatcher (1999)
Written and directed by Lynne Ramsey (We Need To Talk About Kevin, You Were Never Really Here.) Cinematography by Alwin Kuchler (One More Time With Feeling, Steve Jobs.) Starring William Eadie, Tommy Flanagan, Mandy Matthews, Michelle Stewart, Leanne Mullen, Craig Bonar and John Miller.
"James' life is about as down-at-heels as it can get. He lives with his two sisters and parents in a dark, dank flat where there is little food and only a modicum of affection. His "da," George (Flanagan), is a drunk — with a deep (and unexplained) scar on either side of his mouth — who arouses his son's wrath by keeping company with a middle-aged tart one night after leaving the pub. James' ma (Matthews) is one of those slightly stereotypical female martyrs who loves her husband and finds time to jitterbug with her kids in the midst of (and in spite of) her soul-crushing routine.Ratcatcher succeeds most when portraying the desultory, sometimes cruel activities of the kids that James runs around with. There's Matt Monroe (Bonar), the leader of a gang of neighborhood brutes who introduces the boy to the local easy girl Margaret Anne (Mullen); every time these toughs appear, trouble isn't far behind. The introduction of the slightly off-kilter, vermin-obsessed Kenny (Miller) lends an added unpredictability to the scenario, because it's never quite clear what he'll do next. Ramsay wisely inserts some moments of grace into the lives of her young characters, and these shifts make for some memorable moments." Rod Armstrong, Reel.com
Screenings:
The Florida Project begins Friday at The Grand Cinema.
Modern Times
will screen at 
7:15 p.m.
 on Friday, November 3 in the Center for Spiritual Living (
206 N. J St
).
Ratcatcher
will screen at 
7:15 p.m.
 on Friday, November 10 in the CSL.
The TFC Discussion Night for these three films is Wednesday, November 15 in the CSL.